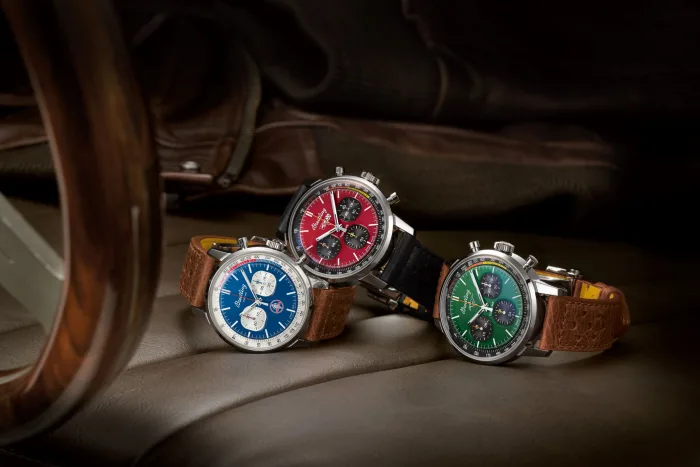 By Dave Ashton
Swiss watchmakers Breitling have honored three classic muscle cars by producing these high-octane chronographs. The inspiration for these watches comes from the Chevrolet Corvette, Ford Mustang, and the Shelby Cobra.
Breitling aren't strangers to producing vehicle-inspired timepieces, previously using the McLaren and Lamborghini as inspiration. This time around it's the turn of classic muscle car designs from the nineteen sixties, with an equally vintage timepiece design.
The Corvette-inspired timepiece has a stainless steel case with racing-inspired calfskin straps. Red and black are the color themes here, with a dual flag logo on the dial.
The Ford Mustang version sports a traditional green Mustang face, with the iconic Mustang logo at the 12 o'clock position. Last but not least the Shelby Cobra-inspired timepiece sports a bold blue color with a Cobra badge, white center dials and surround.
The Top Time Classic Cars collection comes in two distinct varieties. The Corvette and Mustang versions come in a 42mm housing, with a self-winding 1/8th-second chronograph, and a 42-hour reserve of power. Both watches also feature contrasting black subdials and a tachymeter scale.
In contrast, the Shelby Cobra version has a 40mm casing, using the COSC-certified Breitling Caliber 41 as a power source, a self-winding 1/4th-second chronograph, and a power reserve of 42 hours. In contrast to the other two watches, the Cobra version has white subdials and a white surround.
Other added benefits to these high-class watches are the 38 jewels, water resistance to 100m, cambered sapphire crystal faces, and calfskin leather straps.
If you already own one of these classic cars in one of these respective colors, then adding a bit of bling to your wrist may just finish off the effect.
If one of these timepieces takes your fancy, they are available for at $5,500 each.
Donate To Fast Muscle Car
We spend a lot of time bringing you muscle car content. If you would like to donate something to help us keep going, that would be fantastic.
VN:F [1.9.22_1171]
VN:F [1.9.22_1171]